Portable solar power delivered in a shipping container.
Temporary and emergency power generation is a niche that few are working to decarbonise.
This is mainly because of how little it emits compared to other sources like agriculture, global transportation, and grid-scale energy generation.
We've previously covered portable kite energy and portable micro-nuclear as container-sized energy solutions for this niche.
A niche that is currently monopolised by the polluting diesel generator.
In this article, we look closer at portable solar energy and battery storage as an alternative to decarbonising the temporary energy niche.
Content
A niche in need of innovation
Maintaining power generation at all times is essential to modern society.
Not only because the world is dependent on digital systems for communications and supply chains but also to guarantee basic necessities like winter heating, water pumping, medical equipment and food refrigeration.
For almost 100 years, versatile diesel generators have done a splendid job of providing emergency power and have probably saved millions of lives.
But these are changing times, and every niche must do its part in decarbonising, so a solution that is equally reliable but clean is the goal.
Particularly when considering that the emissions of diesel generators are 2.15 larger than those of the U.S. national grid, which has one of the highest carbon intensities.
In comes solar energy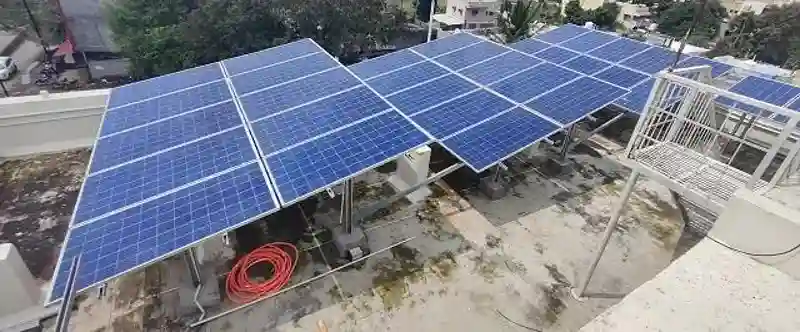 We came across the concept of portable solar farms in this video produced by the World Economic Forum (WEF).
A series of rapidly deployable solar panels stored within a container that can be transported anywhere with road access in the back of a lorry seem bound to replace diesel generators in a heartbeat.
Ready to produce energy in as little as 15 minutes, these could replace generators in multiple temporary and emergency settings like construction sites and emergency power for hospitals, refugee camps and any other immediate energy needs.
When combined with a PV Solar battery system, these portable solar units could produce energy day and night, and, if large enough, could even help with a nation's baseload in times of increased demand or reduced supply.
But as usual, it is never a straight-up fairytale story…
Remembering the Lindy Effect
We soon found out that the trailblazing company behind this portable solution had put the project on hold "due to the huge interest in our other industries".
Polish company Moveit specializes in trailer and container innovations and has been in the market for decades. Their working prototype appears well-tested, and the green technology niche is in its prime.
We soon realized that there were a number of similar portable solar prototypes from different startups, some of which had seemingly vanished after posting well-edited marketing videos.
We were quickly reminded of the Lindy Effect and how novel concepts with high chances of success must stand the test of time before acquiring trust.
To be precise, the Lindy Effect is a theory that robust innovations will remain relevant for as long as they have survived in the past.
For example, if containerised solar power becomes commercially used worldwide for 10 years, it will likely survive another 10.
In other words, new concepts must stand the test of time to prove themselves revolutionary, and this niche is no different.
And so far, it is not looking as promising as we thought. Let's look at some containerised solar innovations of the last few years and how they have fared the test of time.
Moveit
This is the self-unloading portable solar system displayed in the WEF video, produced by Polish company Moveit.
This impressive system fits in a container and can be self-unloaded using a system pioneered by the company, where the panels automatically deploy from the roof.
The opening process resembles a sped-up scene of a growing seedling, with the panels opening up like the petals of a flower once the supporting structure reaches its desired position.
Also, the panels automatically track the sun's position during the day to maximise power production, and when installed together with a battery, can provide a 24-hour power generator.
But despite what looks like an absolute winner, this project has fallen off the company's priorities.
TenFold
We found this prototype on YouTube, showing a series of panels lugged by a truck and automatically unloaded from a truck.
The solution wasn't containerised, so it would only be deployable locally.
The concept appears to have remained at the idea stage as their website only shows a containerised portable home concept, which looks attractive in its own right but is beyond the scope of this article.
Multicon
This German company has also tested its solar container prototype for many years in multiple scenarios.
The photographs on its website suggest that they've deployed it for military and humanitarian purposes across Europe and Africa and in sites across Germany.
They've been working on containerised solutions for over a decade, and their idea of a "plug-and-play" model has in-built energy storage and smart energy management.
The maximum output of a single container is 52kW (at peak). Its in-built battery can store 100kWh of energy, which is enough for a small refugee camp, hospital, or emergency water desalination.
Their prototype even won an Energy Globe World Award in 2016, clearly showing that we aren't the only ones to think this is promising.
However, the projects now appear abandoned, as there haven't been any marketing updates for the last couple of years, with their last tweet coming out in 2018.
Jans Creacar
This Belgian firm specialises in "unique metal innovations" and has been in the market since 1929!
According to their website, they provide highly customisable solutions like containerised portable LED screens for large events, press lorries, residential car lifts, fairground solutions and finally, their portable solar solution.
Their website described their 45′ solar container that can provide up to 38kW (peak) of energy production and includes in-built battery storage of up to 120kWh in detail.
The system's solar auto-tracking makes it 45% more efficient than a static installation, similar to Moveit's.
Despite the richness in detail, there are no photos or videos of it being used or trialled in real conditions, and there is no clear, actionable button on their website to order this prototype, suggesting it is not readily available for purchase.
Solar Gem – Akuo
This containerised solar solution by French renewables company Akuo is different.
The panels come folded up within the 20′ container and are deployed by unfolding them onto the ground like an accordion.
A series of rails with small wheels are installed facing the container, allowing the staff to unpack it within 30 minutes by rolling the panels out.
The unloading and loading process is not fully automated and requires some manual labour or forklift to deploy.
Scaling the system requires ordering more or fewer containers, each providing up to 75kW (at peak).
According to their website, up to 1000kW (peak) can be installed in a week, in this plug-and-play system.
The system can be packed during hurricane conditions, and provide 24-hour energy supply when combined with a portable battery system.
What makes them stand out is that their website indicates that the system is "Available for immediate delivery", indicating that the system is available.
We speculate that this may be because the project is run by the Akuo Groupe, one of France's household renewable names, and perhaps has more financial firepower to take on this bet.
Conclusion
Despite the promising marketing material, most of the proposed solutions are finding trouble getting to market.
Of the five prototypes we looked at, only one appears available, with the others falling out of favour.
There may be many reasons for this. Perhaps it's a lack of financial incentives to switch or a lack of trust that a solar system could be as reliable as the robust diesel generator that most mechanics know how to fix.
Perhaps it's cost-prohibitive, or maybe just too big to fit compared to a more versatile generator.
Or maybe it's a lack of marketing, where these small companies cannot reach their customers, be it rural communities, the military, construction, etc.
Whatever it is, at AquaSwitch, we do hope that these solutions succeed, under the condition that they're capable of competing in a free and open energy market.
Resources
Extended reading:
Agrivoltaic Solar Farms: Find out what Agrivoltaic solar farms are, what their origins are, what the different types are and much more.
Solar Roof Tiles: Find out all about the new technology of solar roof tiles, what they are, how they work and the pros and cons.
Solar Powered Seawater Greenhouses: Learn all about desert greenhouses, solar desalination and the Sundrop system.
Space-Based Solar Power: Learn all about space-based solar power, who invented it, and the different types of space-based solar.
Perovskite: Learn about the new era of Perovskite, the pros and cons, and discover if Perovskite is a revolution.
Vat Solar Panels: Read about VAT on commercial solar panels and how it works.